Do only good closers keep their jobs?
June 17th, 2011 by
Derek Carty
in
General Guidance
,
Theoretical
A couple weeks ago, I began a series looking at closers and how to best identify the closers that will succeed in a given year. Given that, on the whole, less than 50 percent of pitchers who begin the season as a closer end the year closing games, deciding which closers to choose for our fantasy teams is a tricky subject.
Last time, I looked at how often closers lose their jobs based on their start-of-year classification of sole closer, injured closer, injury replacement, or part-of-a-committee. I found that, far and away, sole closers are the best bets while the rest are lucky to get double-digit saves. This time, I'm going to put the theory of "draft skills, not roles" to the test.

Last Season ERA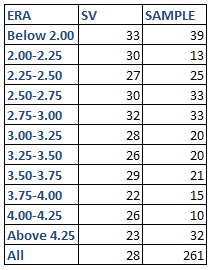 To do this, we'll first define "skills" as the pitcher's previous season ERA, focusing only on pitchers who began the year as "sole closers" to avoid unwanted biases. The chart to the right shows how many games a closer will save based upon his ERA the year before.
As you can see, there is definitely an advantage to having performed well the season before, but it's not as big as most assume. In the chart to the right, you see that the difference between the absolute cream of the crop and the absolute worst is just 10 saves.
Below, the data is presented in graph form, for those who like to visualize things that way. The r-squared is just 0.03, which means that previous season ERA predicts just 3% of the variation in next-season saves totals for pitchers who begin the year as closer. For every point that a pitcher trims off his previous-season ERA, his saves total increases by just 2.6. So a pitcher with a 2.00 ERA would be expected to save 31 games while a pitcher with a 5.00 ERA would still be expected to save 23 games.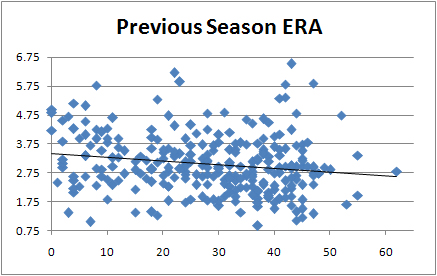 Projected ERA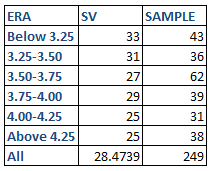 "Previous season ERA is a poor indicator of talent," you say? Ok, let's run the same test using the pitcher's projected ERA for the season in question. For this study, I'll be using Jeff Sackmann's ever-useful historical Marcels database.
When we do this, we end up with essentially the same result we got with previous season ERA. Again, it's better to have a good projection, but not nearly the necessity than most seem to believe it is. The r-squared here is just 0.04, and for every additional point of ERA, a pitcher's save expectation decreases by 5.7. That's more than for previous season ERA, but it still means that the difference between a 3.00 ERA projection and a 5.00 ERA projection is just 11 saves (and honestly, how many closers are really expected to be as bad as a 5.00 ERA or even as good as a 3.00 ERA?).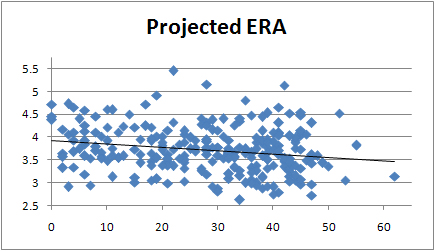 3-Year FIP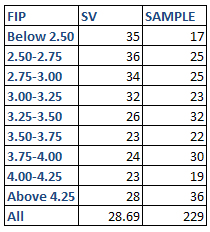 I originally planned to stop here, but since Marcel is such a simplistic projection system and since Jeff's calculation of Marcels ERA is even more simplistic – he says "I didn't do any kind of DIPS or BsR adjustments" – I decided to do one more test using a pitcher's 3-year FIP. Pitchers were only included if they had thrown at least 100 innings over the previous three seasons and, of course, if they started the year as the sole closer.
Using our third method, we again find the same thing: good closers do better, but bad closers manage to do just fine too. Our r-squared jumps up to 5.5 here, but 1.00 of FIP translates to just 4.8 saves, making the difference between a 3.00 FIP closer and a 5.00 FIP closer just under 10 saves.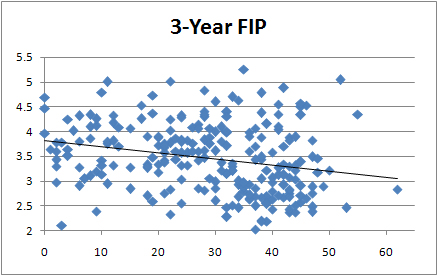 Skills vs. Role
I believe that today's findings are of paramount importance to fantasy leaguers. While this isn't the end-all-be-all study, I think these findings are highly significant and cast a serious shadow of doubt upon the "buy skills, not roles" theory.
Up until this point, we've always assumed that a guy like Mariano Rivera is a better bet for saves than a guy like Ryan Franklin. While this is true, today's findings show that there may not be as big of a gap as we've always thought. After all, for almost every Ryan Franklin who loses his job, there's a Joakim Soria who does the same.
Of course, there are still more variables to look at (which I plan on doing in future articles), not to mention the value a closer derives from the other four categories (which I'll also look at in a future article). For now, though, I think this gives us a lot to think about and really calls into question a lot of the assumptions that we as fantasy owners make about building a team. Is it worth it to spend $24 on Neftali Feliz when you can buy Kevin Gregg for $8 and receive nearly the same amount of saves?